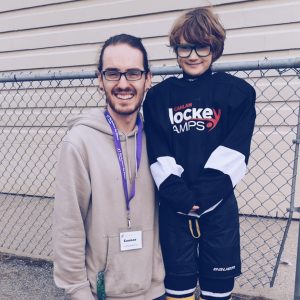 Big, Connor and Little, Micah play hockey nearly every week they get together in the In-School Mentoring program. When it is "Connor day" Micah will show up to school with his full goalie gear on, so he is ready for when Connor comes.
We asked Micah to share his thoughts on the match: "He always looks me into the eyes when I'm talking, and he always asks me things about me. We have a lot of fun and a lot of laughter together."
Connor had these comments to share: "Seeing Micah in his hockey gear really brightens my day. His energy brings up my mood, and it is truly heartwarming to see him and his friends get excited when I arrive. We play hockey about 95% of the time. Every week we work on different hockey skills like shooting and passing . What cemented this relationship for me was when Micah began to hug me when I arrive and leave – without any prompt from myself. My expectations for this match have been surpassed. I get great satisfaction from seeing Micah enjoy our time together, and also hearing from his teacher how much he has been improving and how much he talks about me when I'm not around."
As an agency, we are so happy when these relationships develop in our programs and we are able to witness their friendship first-hand! Thank you to Connor and Micah for allowing us to showcase their awesome hockey skills and friendship grow!