A message from our Executive Director, Roslyn Henderson:
The current COVID-19 pandemic has shifted our world and we are not alone when we say that this is a very uncertain time for our local and global communities. Although it is hard to predict what the coming weeks will hold, we want you to know that our mission remains the same. Our agency is here, and is committed to supporting life-changingmentoring relationships for young people facing adversity. Social isolation is an adversity that we are all facing at the moment, but it will be especially challenging for the vulnerable young people and families that we serve.
Please know that we are focusing our efforts to better serve our community and families during this difficult time, and like many of you, we are developing new strategies and ideas daily. Although our matches are currently not able to see each other in person, our mentors are still engaging virtually in order to provide much needed support and friendship during this confusing time for children. It is through these relationships that children will build resiliency. Hearing stories from our matches on how they are still striving to connect has been heart-warming and encouraging.
And as our ability to engage with our family, friends, colleagues, and neighbours becomes increasingly more challenging, we are learning how essential these connections truly are. So to our families, our volunteers, our partners, and our community – we want you to know that we are here for you and we will come out of this #BiggerTogether.
RESUMING IN-PERSON MEETINGS FOR COMMUNITY-BASED MATCHES
Our National Office recommends that in-person matches remain on hold until further notice. However, we also understand that each province is operating at different levels of health and safety restrictions as our country works to flatten the spread of the COVID-19. Our Langley agency recognizes that British Columbia is one of the leading provinces in minimizing the spread of the virus and our Provincial Health Authorities continue to lift restrictions. As we approach Phase 3 of BC Restart Plan, we recognize that matches will want to resume their in-person visits (while following safety recommendations) and our agency needs to ensure we provide our volunteers, children, and families with information that will protect the health and safety of everyone involved in the match. This information is in compliance with the Provincial Health Authorities.
COVID-19 Training is available, please reach out to your Mentoring Coordinator if you have not reviewed this material.
Mentoring Resources & Tips
Be mindful. As the COVID-19 pandemic spreads, it may trigger trauma for young people impacted by the virus or by the news surrounding the pandemic. Let your mentee know that you see them and are there for them.
Be intentional about preserving continuity in the relationship.
Acknowledge what is going on and engage in a dialogue about the pandemic.
Understand and honour your emotions and the emotions of your mentee, including the range of reactions that may be expressed.
Commit to self-care. Know that it is okay to take a break from the news and discussions about the virus as needed to manage anxiety or other responses to the situation.
Be in it together. Let your mentee know that you are in this together and are here to help.
Follow the latest on COVID-19 on the BC's Centre for Disease Control website.
Follow the guidelines of your mentoring program and your mentee's guardian around how to connect and communicate virtually with your mentee. Decide on clear boundaries and agreements about how you will connect with your mentee when meeting in-person.
Be communicative. Healthy and supportive relationships are crucial during this time.
If you are able to communicate virtually with your mentee:
▪ Let your mentee know you need to temporarily pause seeing them in person but are still there for them virtually. Create a plan with your mentee about how you will stay in touch while continuing to follow the appropriate guidelines.
If you are not permitted/able to communicate virtually:
▪ Work with your Mentoring Coordinator to figure out a way to pass along information to let your mentee know that you care, value the relationship, and will need to temporarily pause in-person meetings. Health and safety are the primary focuses at this time.
Resources from BBBS National Office
United Way 'hi neighbour' initiative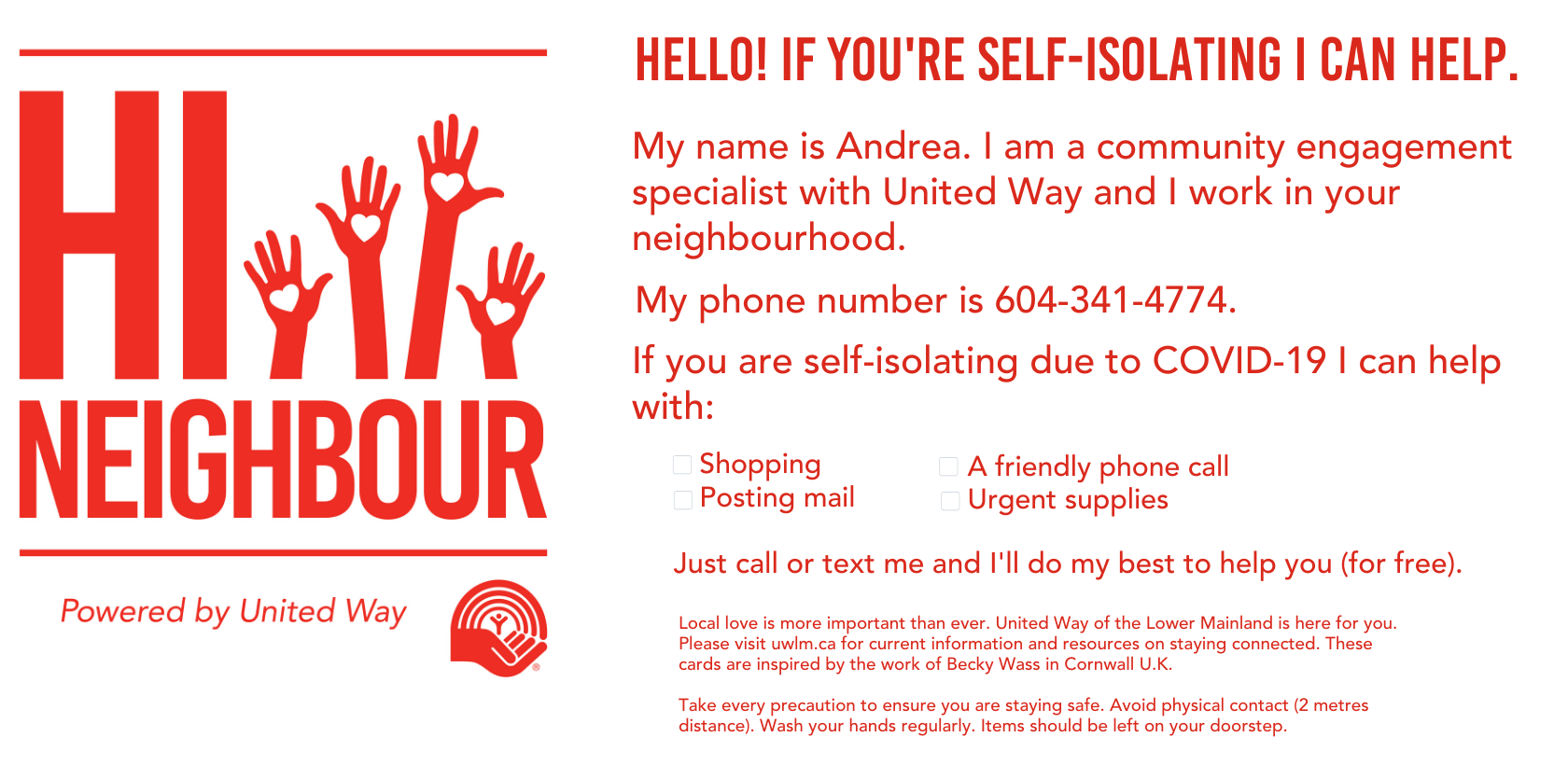 This is obviously a very difficult time for all, but despite these immediate challenges, we want to reassure you that we are here to support you and commit to providing you continued updates and guidance as things continue to unfold. Our team is thinking of you all!