CELEBRATING MENTORING
Our community's strong governance over the years has helped create a strong, resilient agency that has been able to face the challenges of the past year, while staying committed to our cause. We look ahead to 2021 with a renewed sense of hope, and a clear vision for our future. Our team is excited about what lies ahead and knows that we have the best community to lead us down the path of success.
On behalf of the agency, we would like to thank our families, volunteers, partners, and community for your continued support and investment in mentoring. Thank you for standing with us so that we can ensure that children and youth have the resiliency to overcome life's adversities.
A MESSAGE FROM OUR AGENCY
Please enjoy this 10-minute video from our agency as a thank you to our supporters, mentors, and our Langley community! Our team shares agency highlights from 2020 as well as our 2021 Big of the Year nominees and winners!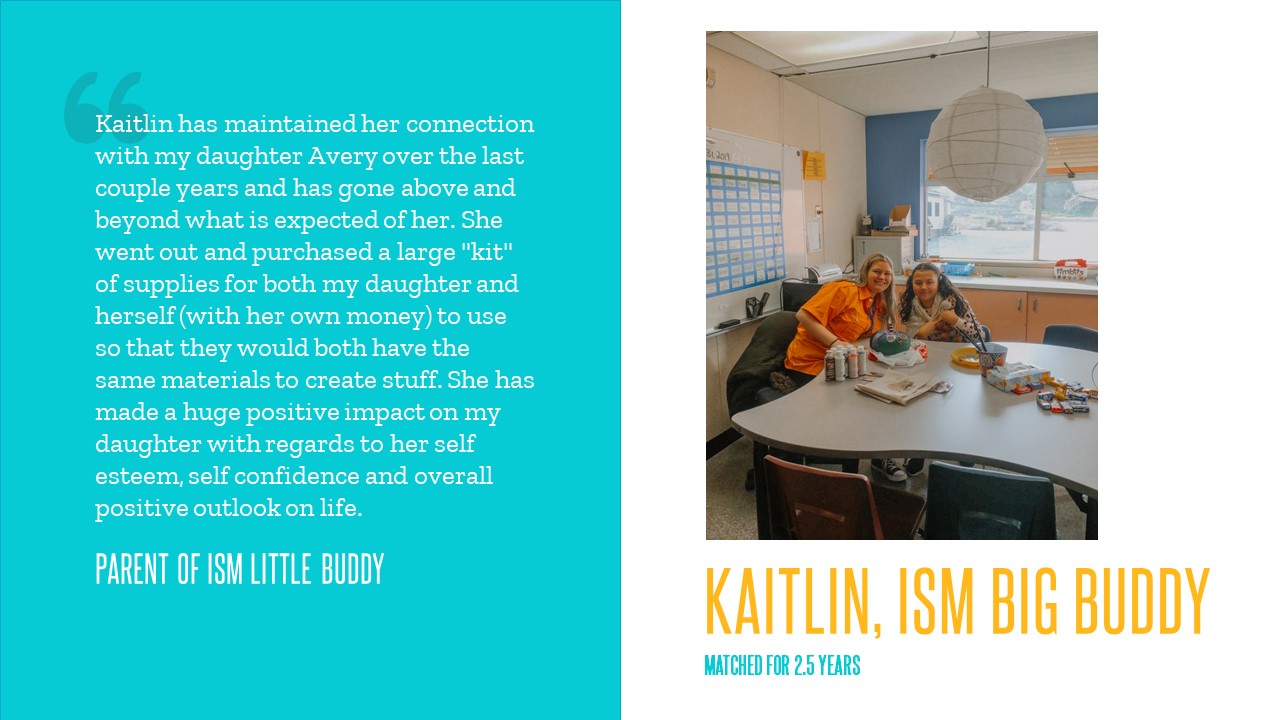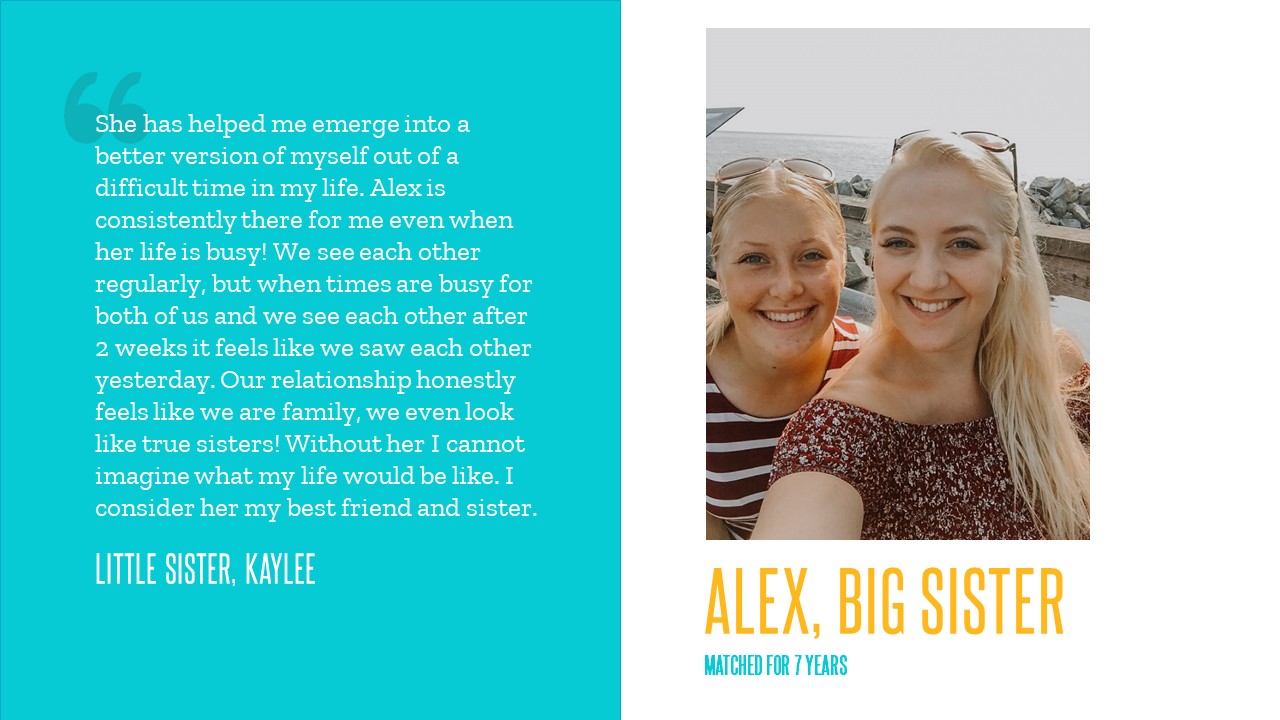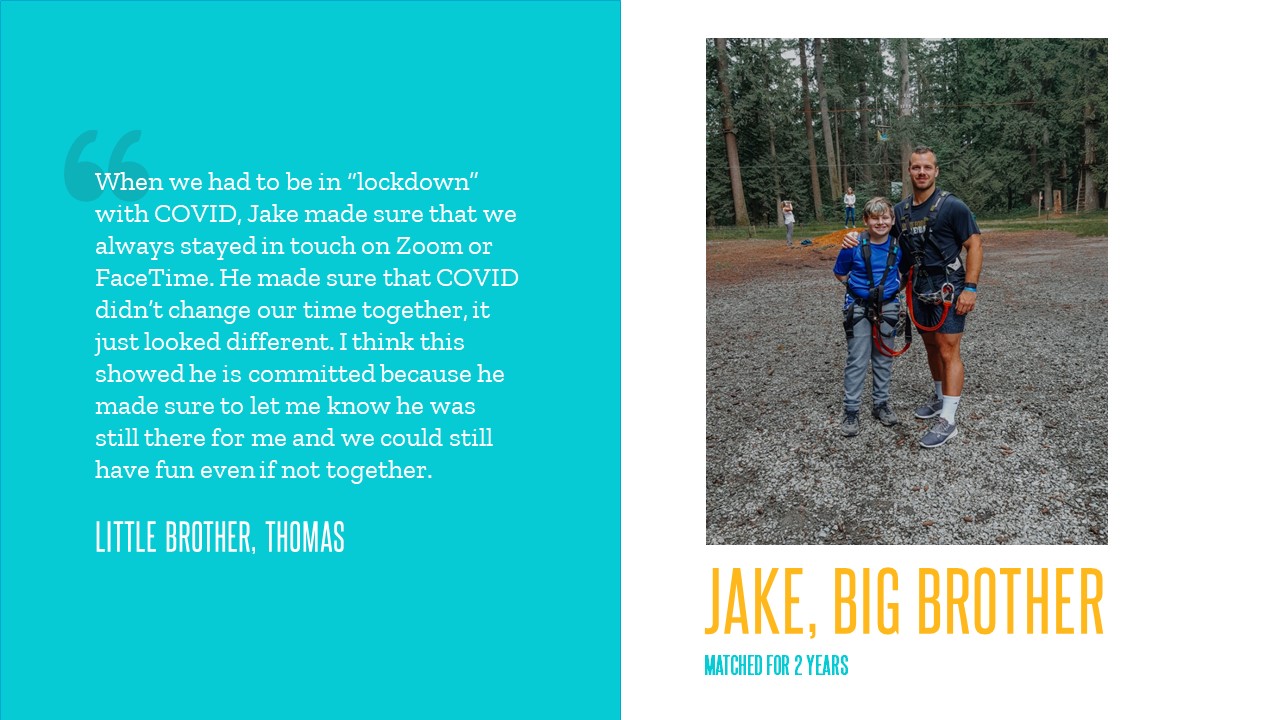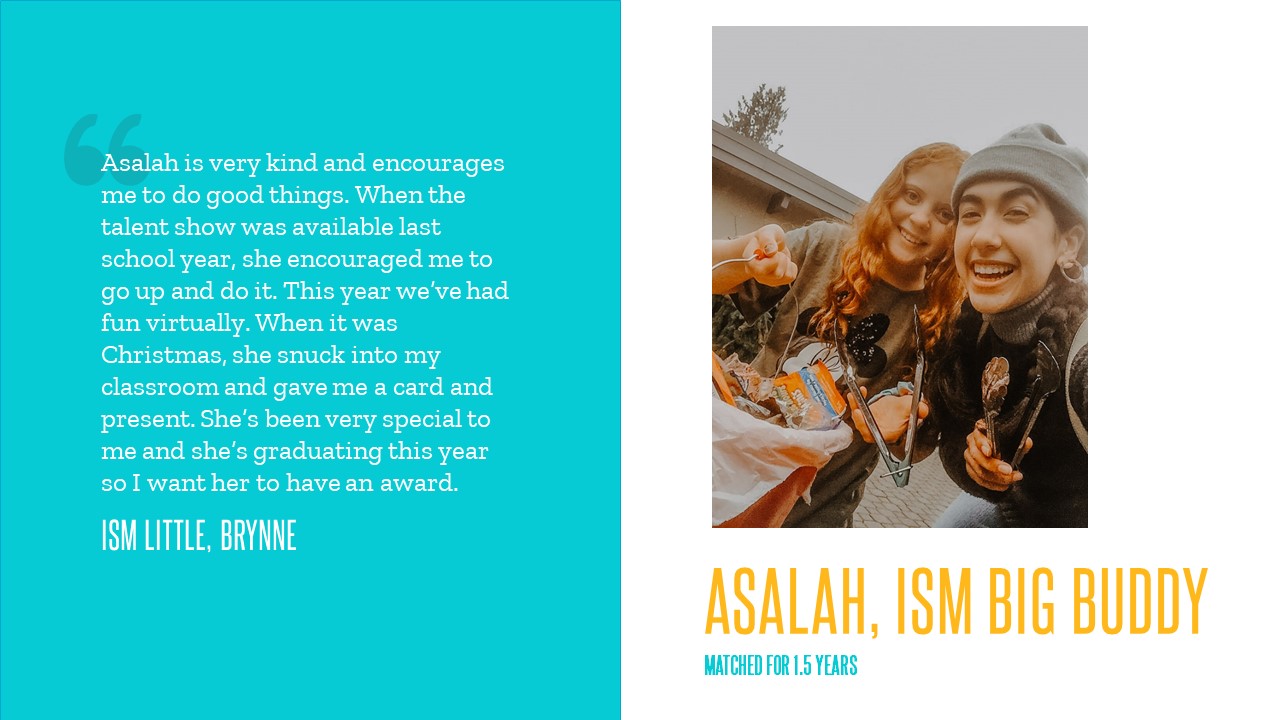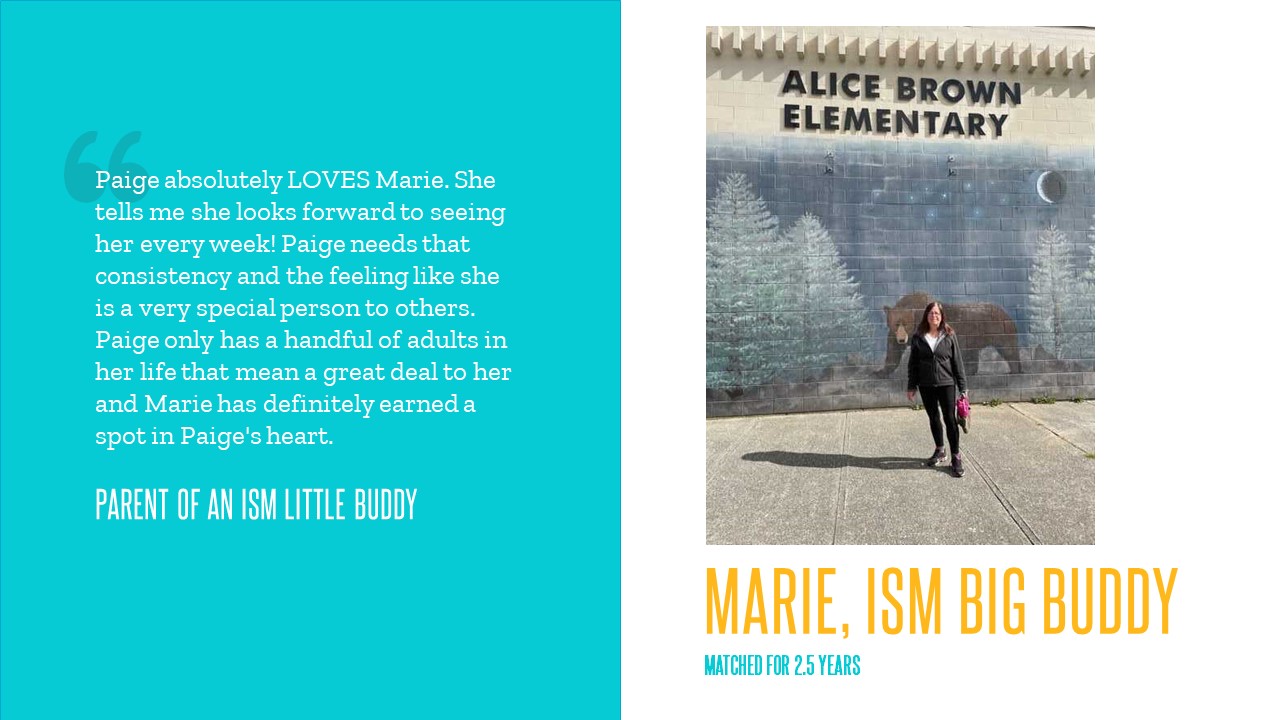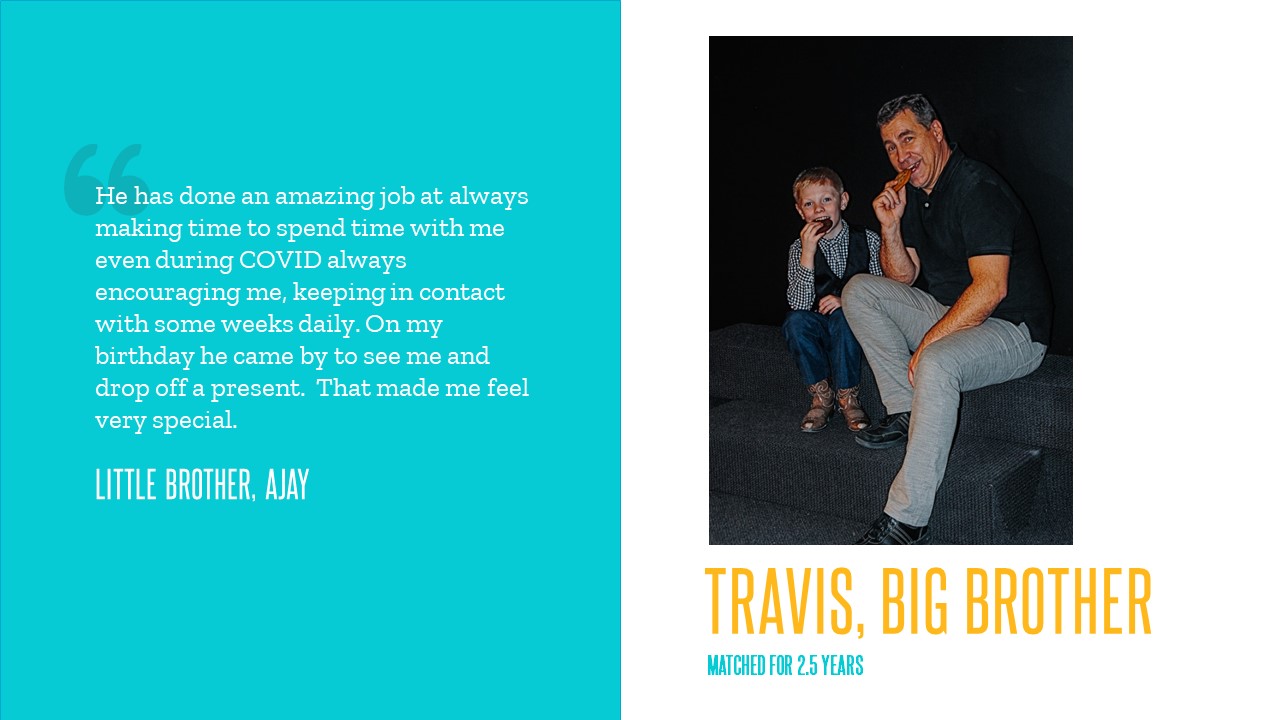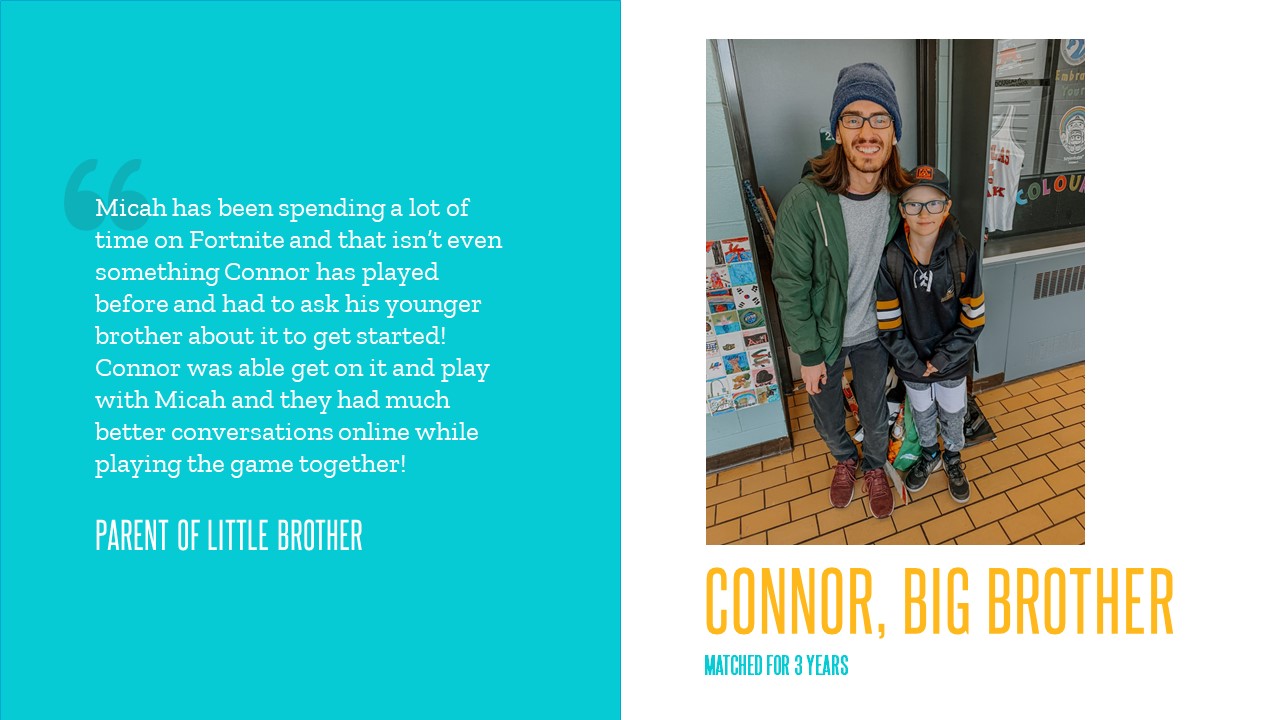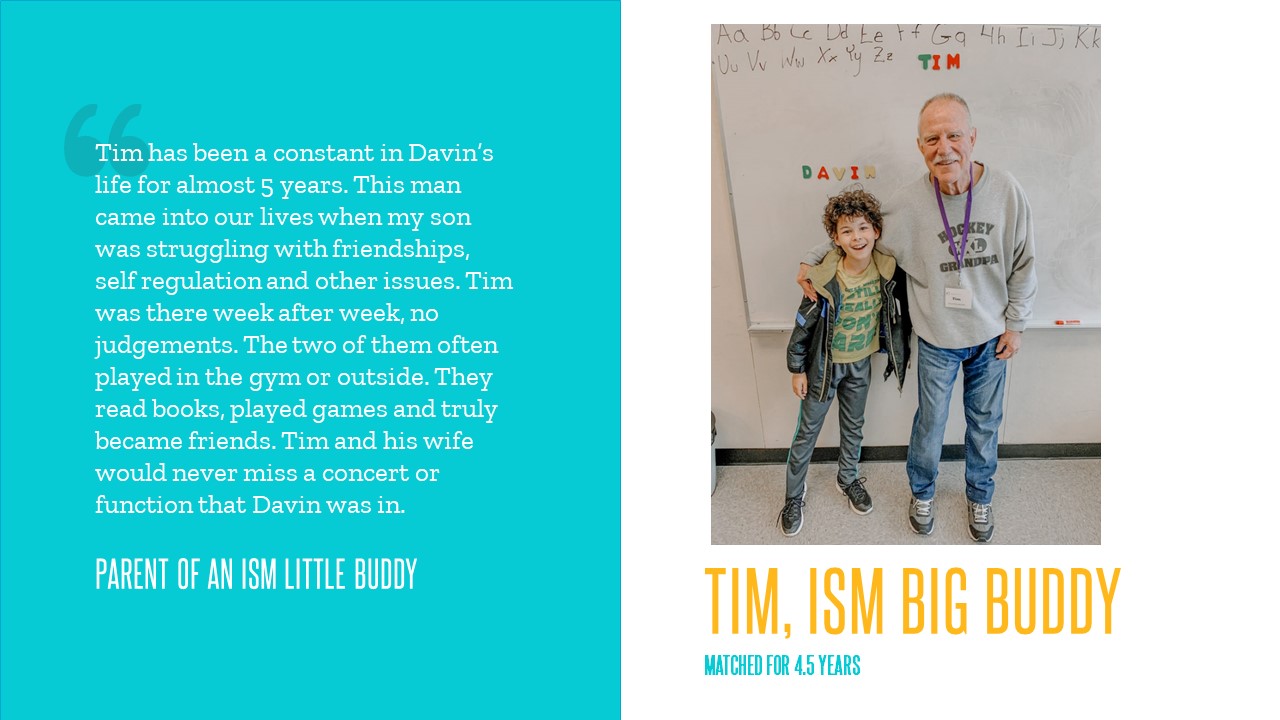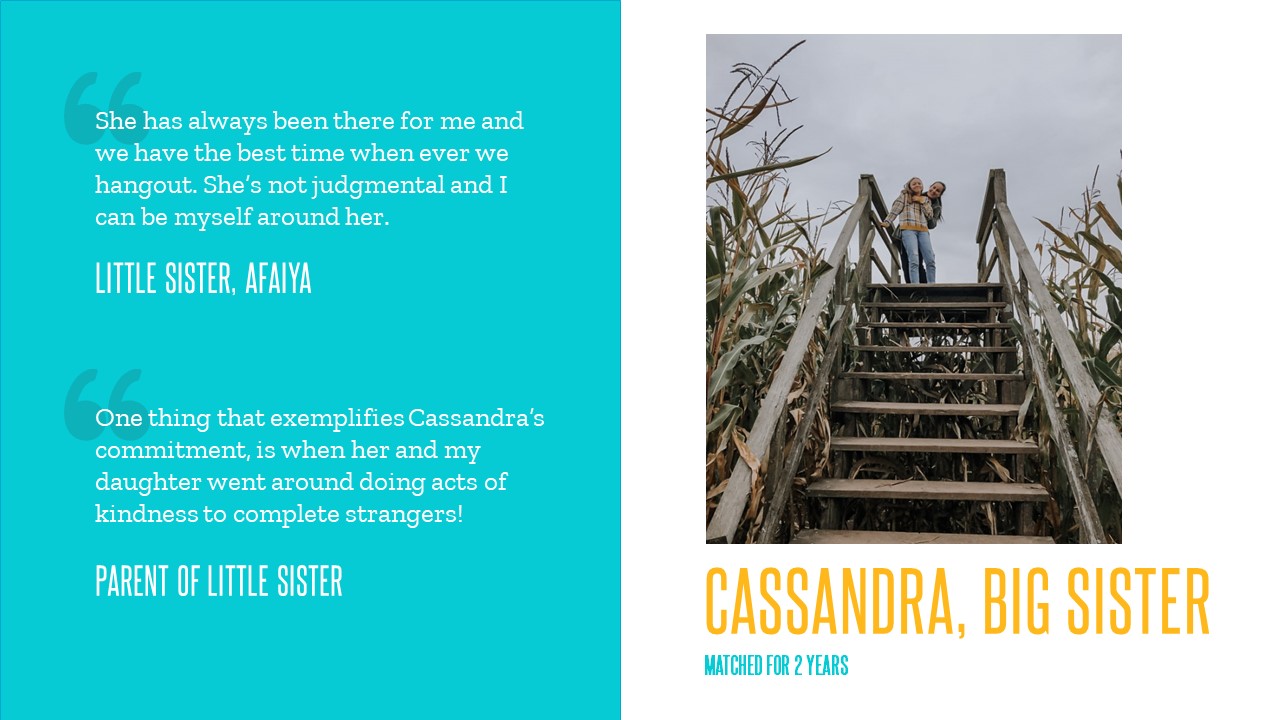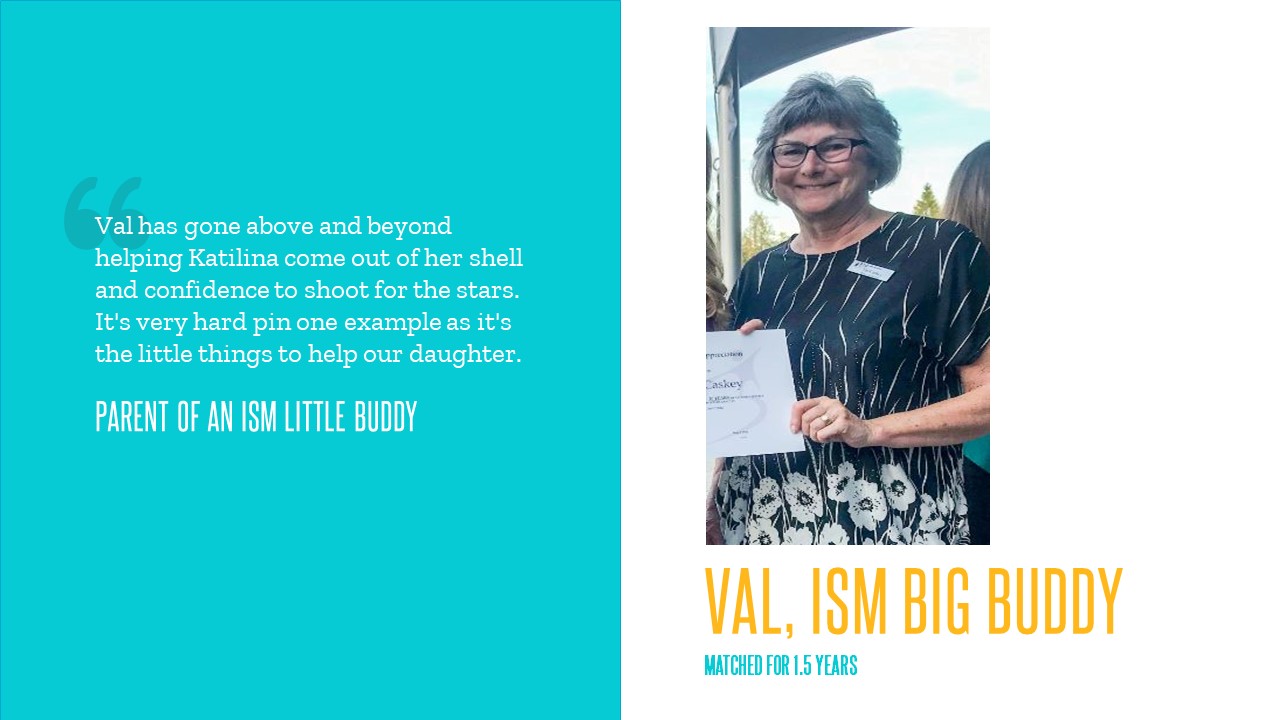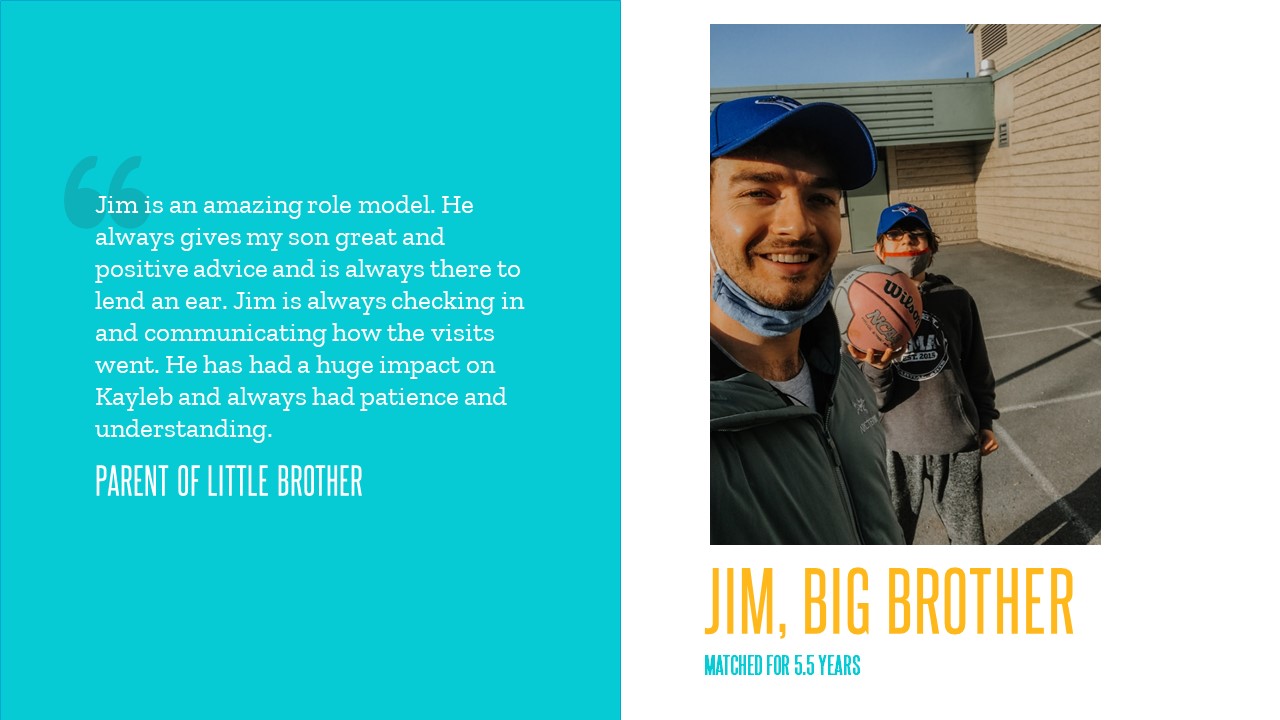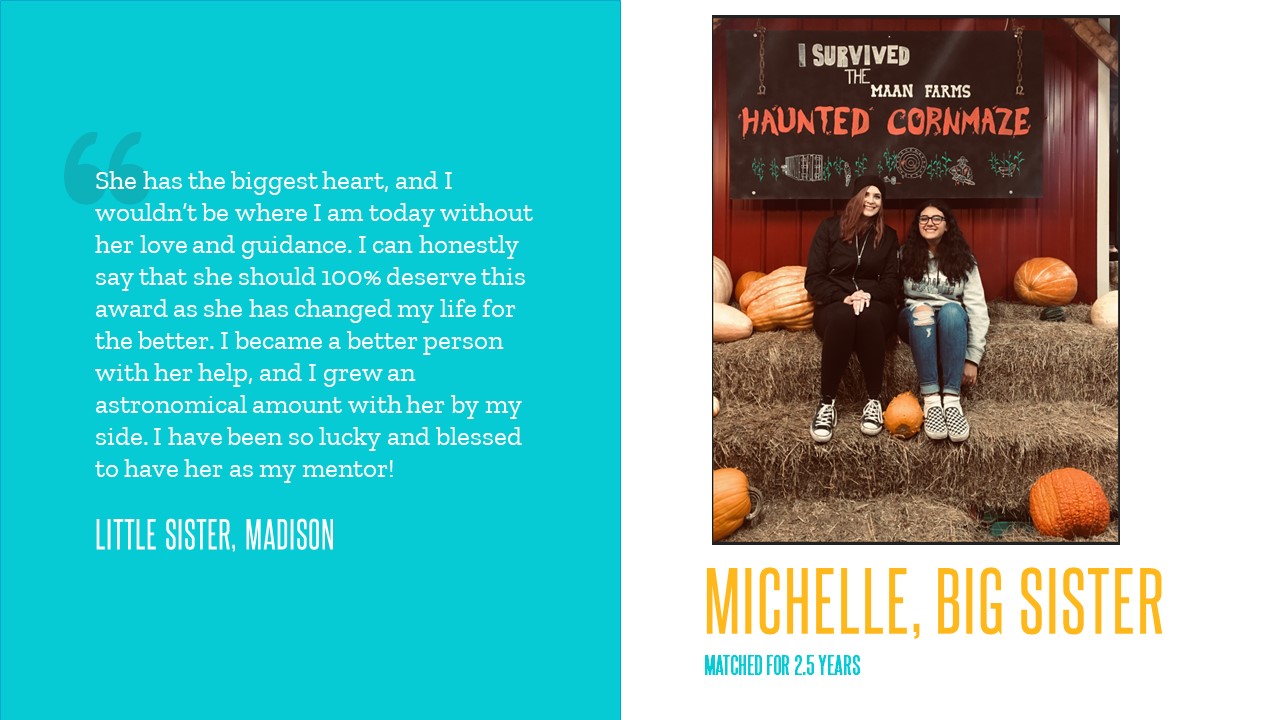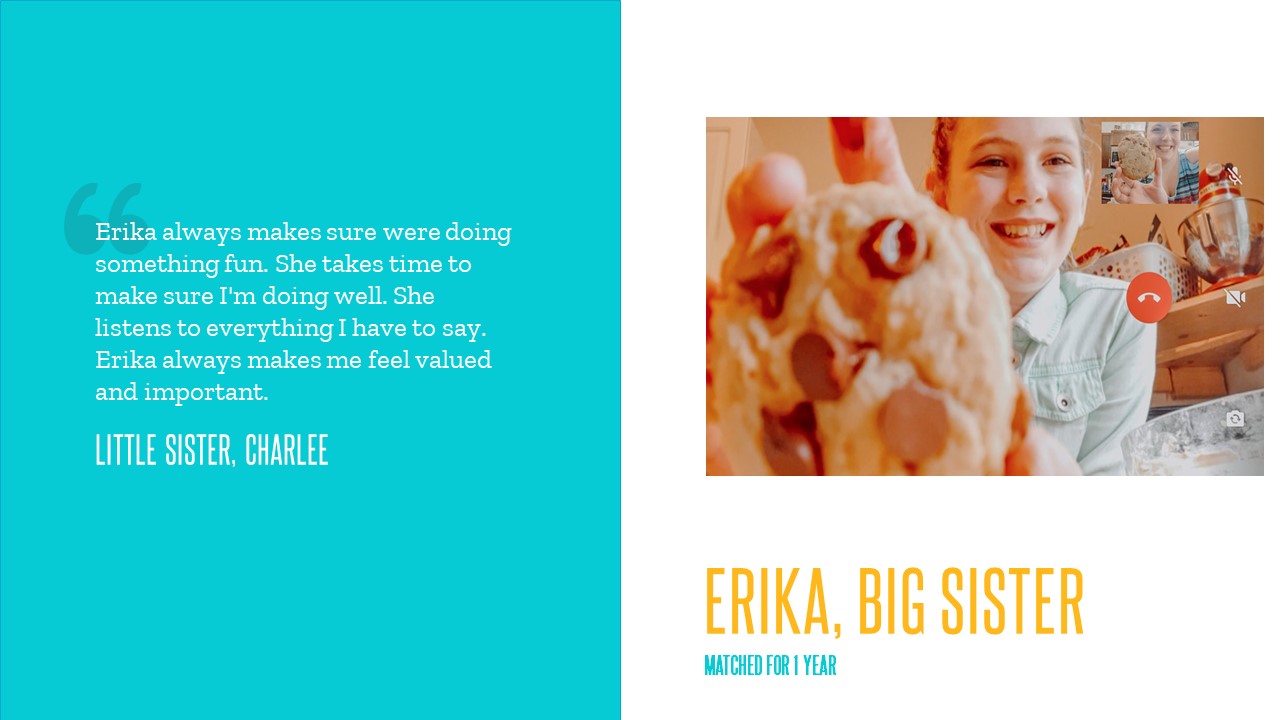 Congratulations to all Big of the Year nominees!
Please view our video above to watch three mentees announce their mentors as Big of the Year recipients! Our agency is recognizing a Big Brother, a Big Sister, and an In-School Mentoring Big Buddy as our three winners of the 2021 Big of the Year award!
2020 DONORS AND SUPPORTERS
Visionary ($20,000+)
BC Gaming Branch
United Way of Lower Mainland
Vancouver Foundation
Government of Canada
Champion ($10,000-$20,000)
Willowbrook Mall (bclMC Realty Corporation and Canadian Core)
First West Foundation
Influencer ($5,000-$10,000)
Ames Family Foundation
Emco Waterworks
Jennifer Epp
John & Lotte Heckt Memorial Foundation
Matcon Civil Constructors
Rotary Club of Langley Central
Telus Foundation
Wolseley Canada Inc.
SurreyCares Foundation
Match Maker ($2,000 -$5,000)
Air Canada Foundation
Bayfield Mortgage Professionals
Chris Martin
Chris Spencer Foundation
City of Langley
Dan Reader
Enterprise Holdings
Envision Financial
FarWealth Management – Jeff Farrell
Finning Canada
Hanh Gerry
Homelife Benchmark Langley Realty
Kinsmen Club of Langley
Kinsmen Foundation of BC
KPMG
Isle of Mann Property Group
Langley Concrete & Tile Ltd
Murray Latta Progressive Machines
Nicomekl School
Perkex Management
President's Choice Circle
Recreation Foundation BC
Renew Crew Foundation
WestJet Cares for Kids
Supporters ($1,000 -$2,000)
Aldergrove Credit Union
Blue Pine Enterprises
BM Group
Bryan and Linda Gour
Campbell Burton & McMullan LLP
Coast Capital Savings
Hamber Foundation
Harvey Loen
Hub International – Chris Forman
James Hardie Building Supplies
Kellie Dale
Knights of Columbus
Lindsay Kenney LLP
Magellan Real Estate Lawyers
Murrayville Financial Services Inc
Metal Supermarkets
Milestone Environmental Contracting
Murrayville Town Pub
One Hope Community Church
Ride Into History
Sunnyside Produce Company, Inc
Tammy Charbonneau
Thunder Kings Motor Group
United Parcel Service
In Kind Supporters ($1000 plus)
Clear Marketing
Loft Country Church
Michael Gibney
Sonrise Church
That's My Ball
Valley Weddings
Christmas Hamper Sponsors
Big Deal Gala Prize Donors